Last year Sotheby's in collaboration with Meissen and Adidas, sold in auction a one-of-one hand painted pair of Meissen x Adidas ZX8000 sneakers. This pair made rounds across traditional and social media for its $ 1 million sale estimate – many justified the estimation due to the piece itself being a piece of high art, not a sneaker. Just this week Sotheby's announced, that in collaboration with Ryan Chang / Applied.Arts.Nyc, they once again have a pair estimated at $ 1 million – and this one is definitely more sneaker than art.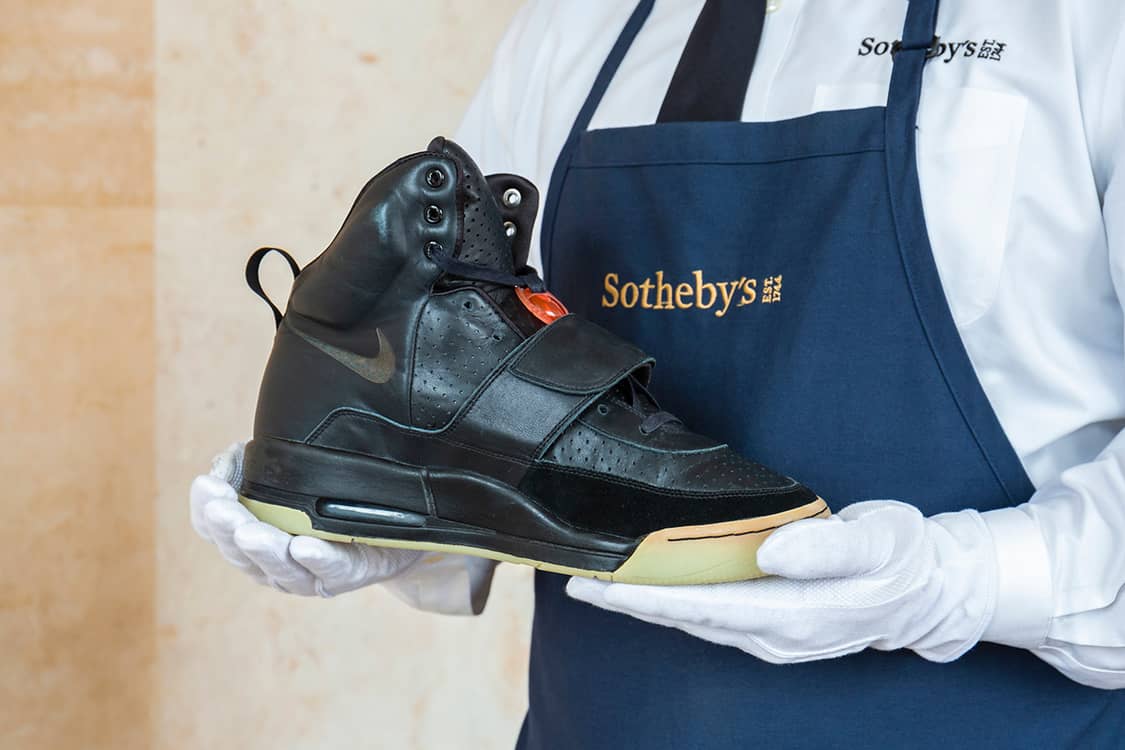 The rare one-of-one prototype of the Yeezy 1 which Kanye West wore during his 2008 Grammy Performance was one of the first times the world was to see the project being cooked up by West and Mark Smith of Nike. The shoe is, as expected, in a US size 12, and shows signs of wear – imperative to its provenance. This prototype in contrast to the retail pairs features an all black leather exterior, a lasered Swoosh on the overlay, and a dual-coloured, stitch-contrasting Jordan 3 sole – which was borrowed for all of the Yeezy 1 sneakers. The pair also comes with a special box, designed and lasered by Mark Smith – Nike design pioneer and partner of West in the design process.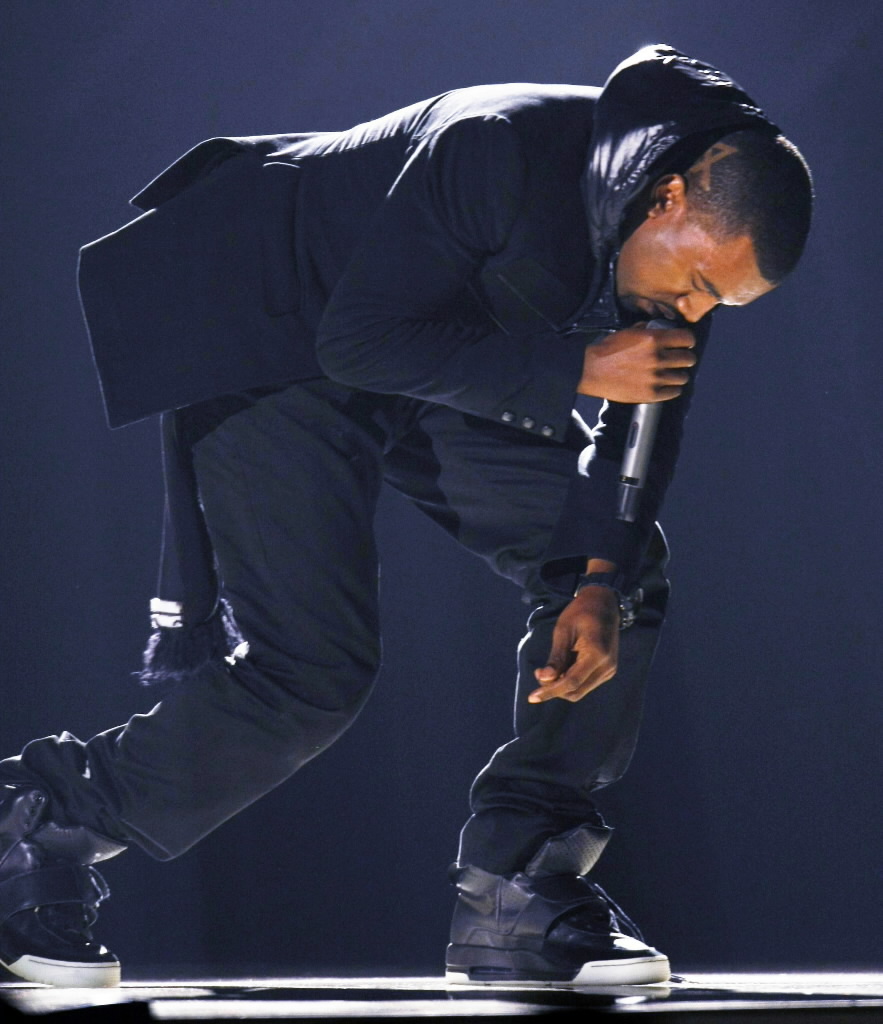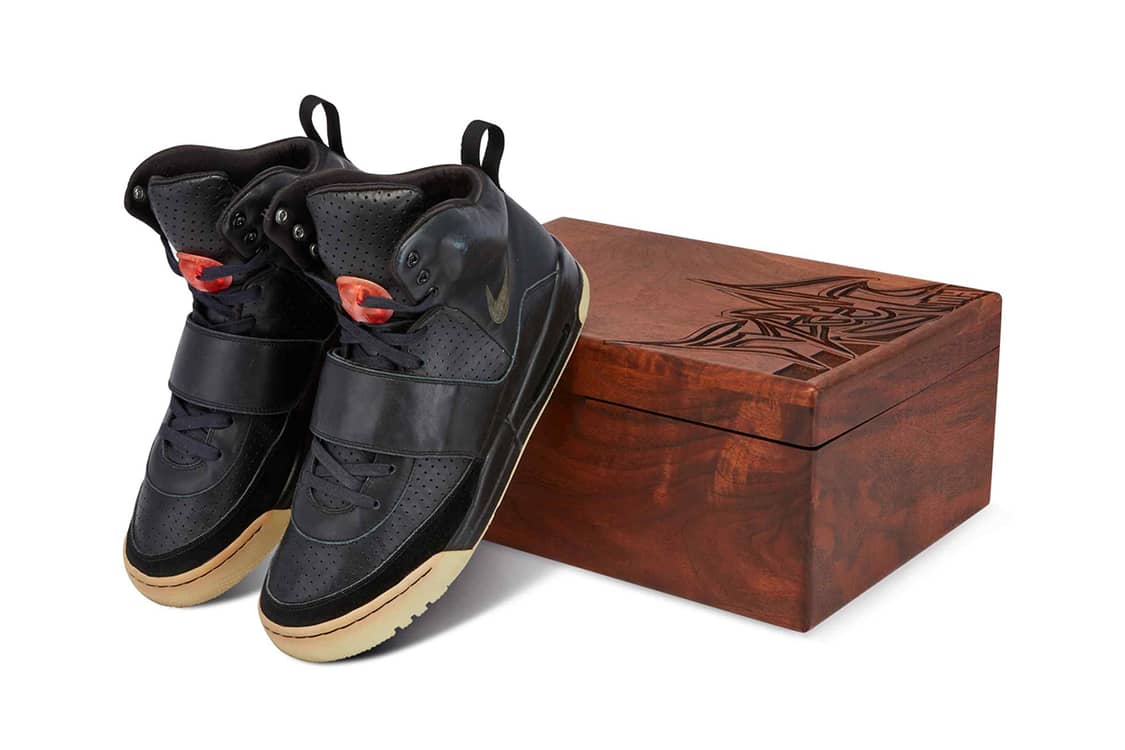 The pair which will be displayed in Hong Kong is being sold in a private sale, with the Sothebys website and app simply tempting buyers to enquire. The $ 1 million valuation has been published by various media companies and organisations – importantly not by Sotheby's – is not just an arbitrary valuation or marketing ploy, but shows a massive shift in the perceived value of sneakers – which have mainly been intertwined directly with the art world, or directly with Michael Jordan. 
Record Breaking Auctions
Sneakers as a mainstream auction category took off in 2019 with Sotheby's famous collaboration with Stadium Goods, selling 100 pairs of the rarest sneakers in history. Miles Spencer Nadal – Canadian entrepreneur and collector, purchased all items in the auction. The first 99 items were immediately bought outright for $ 850,000, he then purchased in auction the original Nike Waffle Racing Flat 'Moon Shoe' from 1972. The final price was $ 473,500 which smashed the previous record – $ 190,373 for a pair of Michael Jordan game worn and signed Converse from the 1984 Olympic finals. The following year in May 2020, Sotheby's lined up a sale aptly titled The One – featuring a single pair of Michael Jordan's Game-Worn and Autographed Nike Air Jordan 1 from 1985. The final 20 minutes of the sale saw the price increase $300,000 to a final sale price of $560,000 – astonishing when compared to the $150,000 high estimate. Sotheby's sneaker department was on point with the timing as the final day of bidding coincided with the season finale of The Last Dance – the 10 part series examining the Chicago Bulls' and Michael Jordan. This hype brought a whole new wave to vintage Jordans and immediately the sneaker world saw a palpable change.
This deadly duo – an objectively engaging documentary with a global mass market appeal, combined with a record breaking sale of associated sneakers, propelled a new wave of vintage and '1985' sneakers. Not only was owning a pair of original Jordans owning a share of a cultural genesis, but also an astute investment. A surge in demand for deadstock OG 1985 Jordan 1's were at an all time high – elusive pairs like headstock Black Toe's and certain metallic pairs had commanded astronomical prices. The demand increases for those with a greater niche appeal, such as those which are signed, game worn, or both. Globally it is accepted that these are cultural artefacts, and have inherent cultural value – and subsequently somewhat liquid in the open market.
Rival auction house Christies made a statement a few months later in August with their first dedicated sneaker sale. The 11 lots which included the Air Jordan 1 pair worn by Michael Jordan as he shattered the backboard in 1985, which fetched $615,000 breaking the previous record. The two record breaking sales have both been Jordan 1 Chicago's worn and signed by Michael Jordan. 
The New Sneaker Investor
This brings us to today where Sotheby's has come forth with a record breaking appraisal for property offered in private sale. This would break the precedent of the most expensive sneaker being directly associated with Michael Jordan, and by extension sports memorabilia. This is a bold statement which is a testament to an expanding demographic of probably younger, international clients who have been more exposed to Kanye West independently and individually. Kanye West is a current actor and player in global affairs with an ongoing career – there is still room for him to reinforce his influence on todays culture, as well as imprinting on the cultures of tomorrow. There are very limited ways in which Michael Jordan is going to be able to dramatically shape the price of original Jordan 1's; Kanye West still has time to cement his legacy – and his unpredictability adds to this. 
Kanye West was one of the first artists to bring athletic wear and music formally together through disruptive collaborations. His Nike collaborations are common grails and both hold weight as some of the best sneakers to be released, but this pair is special in its nature of being one-of-one. It is also verified as being worn by Kanye West during an iconic performance – already drawing some comparisons between this pair and the most recent record breaking sale.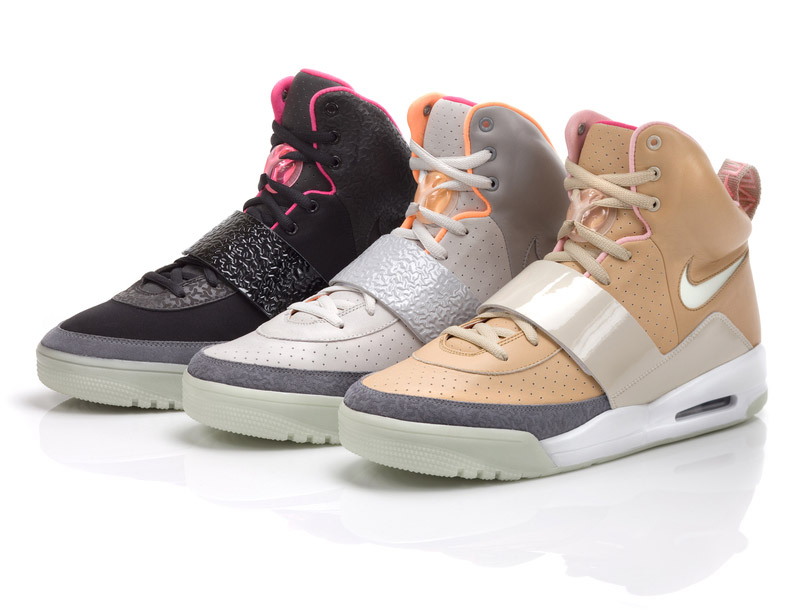 Although no sale has been realised, it has already spurred a conversation, and for the most part that is all that's really required to move markets. Does this instantly raise prices of the original Yeezy 1 & Yeezy 2's inherently, with the samples, signed, and worn commanding even higher prices? Does this mean that the signed Michael Jordan sneakers are undervalued and previous sale numbers are actually steals? Sotheby's are one of a few groups at the forefront of this expansion upwards for sneakers, and it is very likely that they will find a new home at the end of the auction.
The collector is Ryan Chang who also involved in the most expensive registered online sale of a Nike SB Dunk (Futura's Nike SB Dunk High Pro "FLOM" for $87,766.)